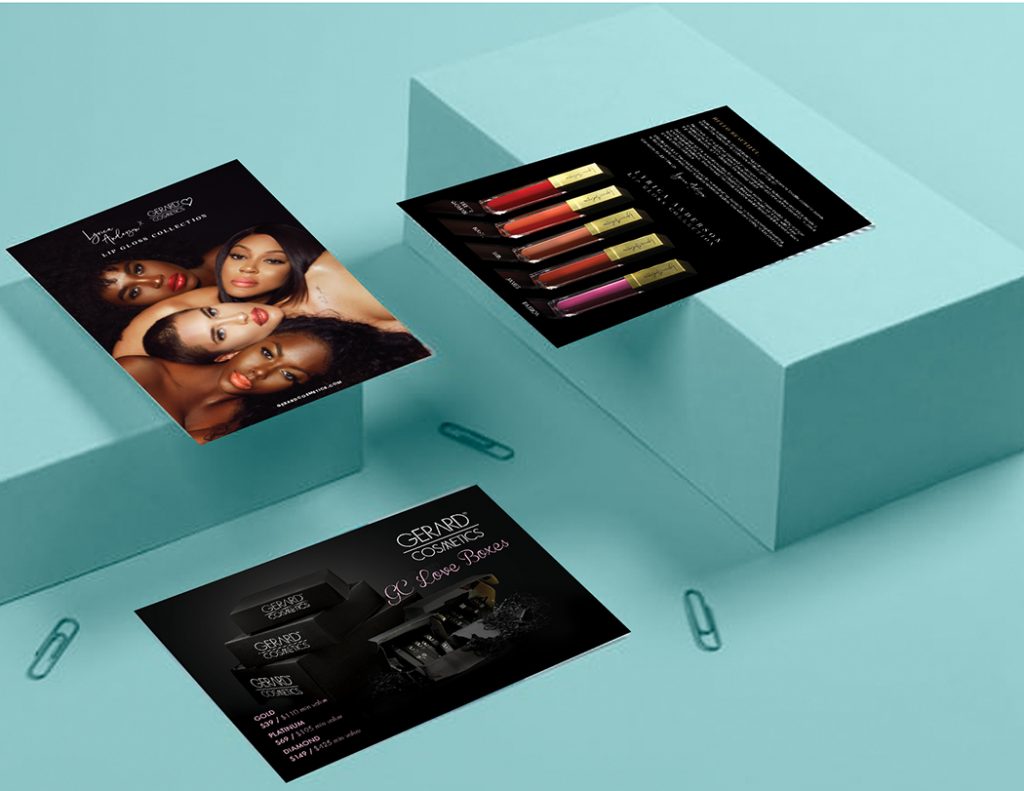 With around 1.9 Million followers on Instagram, this LA-based company is a renowned make-up line for Make-Up Enthusiasts around the Globe. Gerard Cosmetics produces top-of the line products with innovative make-up formulas that mostly professional make up artists would give a thumbs up to. Their so called cult following are the loyal customers that know the quality of their brand. On top o that, they also specialize on cruelty free formulas that never fail to provide their loyal customers with the vibrant, well-pigmented and unique colors they pay for.
Despite their strong online presence, Gerard Cosmetics led by their Founder and CEO, Jen Gerard, still relies on promotional prints or flyers. For more than a decade now, they have been partnering with AK Prints to handle their prints for them.
They have always been able to work with our deadlines and budget which is rare these days

Jen Gerard, CEO Gerard Cosmetics
Why Gerard Cosmetics use Flyers
Striking a good balance between online marketing and print marketing today is the way to go. One primary benefit of online marketing may be growing your reach beyond geographic boarders. However, print marketing will never lose its humble promotional impact, especially when targeting a specific market. Nowadays, the physical aspect of receiving a flyer for consumers may make a more lasting impression since they are bombarded with a pool of online ads.
Many may think that there's no point in printing out flyers these days since they never last long anyway. They may just end up in the garbage bin by the end of the day. But it is an undeniable fact for something tangible to have a more lasting impression. Remember, he gesture of handing it over to your customer partnered with a smile or a simple invitation can go a long way.
Gerard Cosmetics continues their print marketing by building a strong partnership with AK Prints. Their luxurious designs and templates for their printed advertisements stands true with their overall brand that is why, it is critical to find the right printing company with top-notch equipment and service to produce quality output.
The make up brand is known for their long-lasting and high pigmented products that is surely getting praised by many today. It is important for them to deliver that kind of excellence from their product to their packaging and of course their printed flyers.
Gerard Cosmetics Partnering with AK Prints
Choosing AK Prints as your preferred printing company will give you a long and lasting business partnership. Building your partnership with them is definitely a must. They can provide you with consistent, quality products at an affordable price. Keeping yourself updated in all their social media pages and website the best monthly promos as well as affordable deals that will definitely fit your budget.
Whether or not your company is starting out in the market or has existed for many years already, AK Prints prioritizes in working and growing with you. They guarantee providing your business with the best service and attention for your printing needs within your business' preferred budget. Professional Print will ensure you of consistent output that will not disappoint.
Gerard Cosmetics has been trusting AK Prints for more than a decade now. Over the course of time, the company became known to AK Prints as a loyal customer and now a member of AK Prints Community. Today, AK Prints Community is a growing circle of AK Prints customers over the years. Being a part of the community will grant your business with exclusive promo offers as well as company feature in our website.
If you want to know more about the services of AK Prints, click here.
Gerard Cosmetics
@GerardCosmetics on social media
Gerardcosmetics.Com